Salahkar Consultants is one of the leading Recruitment Process Outsourcing Companies with more than 30 years of experience in recruitment.

Since 2002, the RPO wing – Salahkaar RPO is serving many clients.
Advantage of our RPO services are:
Linking Recruitment Directly to Business Goals: We provide dedicated consulting and planning resources in all areas of talent acquisition (people, process, and technology) to identify needs, establish realistic goals and create an RPO solution that addresses them.
Scalability, Cost Control and Quality: Our RPO solutions provide a cost-effective approach for leveraging dedicated recruitment specialists, and best-practice sourcing and recruiting processes and infrastructure. Operations can easily be expanded or reduced based on recruitment needs.

Competitive Recruiting Advantage: The competition for specialized skills, management and leadership talent remains significant. Salahkaar's dedicated recruitment process and strategic focus give you the capability to compete for critical talent and succeed.
Improved Quality of Hire: Salahkaar has more than a decade of success in helping clients achieve the high quality of hire that is essential to effective talent acquisition.
Innovation: From sourcing best practices to advanced technology solutions, Salahkaar's commitment to innovation is the key to our clients' success.
Global Footprint: When talent needs extend across multiple countries and regions, our operations on global map give you the infrastructure, market understanding, and cultural expertise to leverage effective solutions with a global scope.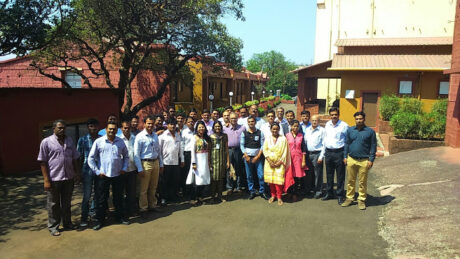 Activities That Recruitment Outsourcing Division Handles :
Placing recruiter(s) at the site with the manager(s) and project director at Salahkaar office.
Manpower planning for three to six months
Have a detailed understanding about jobs by way of recruiters filling job description, Key Result Area Sheet and Scoping Forms. Getting formal approval on understanding.
Presenting sample CV followed by quality candidate sourcing post-checking skill and attitude fitment as per online software.
Recruiter's taking the first round of interviews.
Salahkaar manager(s) taking second round – 30 interviews per month as a maximum.
Doing reference check on KRAs at candidate's previous manager.
Then having an interview at the client's site.
Getting shortlisting by the client.
Doing background check at earlier HR
If asked for then with additional fees we do:
1. Police verification, drug test, education verification, etc. (additional fees)
2. Personality profiling (Psychometric Tests)
3. Behavioural Event Interview (past performance and behaviors are indicators of future behavior)
Doing background check at earlier HR
Presenting present month's status and having next month's plan
Contact: 
If you are looking to opt for one of reliable the Recruitment Process Outsourcing Companies please contact us today.
Fill in your details or call us today. Click here
Or write to rpo@salahkaarconsultants.com
Few popular blog posts for your reading:
Blog on Recruitment Process Outsourcing by Fatema Umrethwala:
Recruitment Process Outsourcing
In today's competitive world, where organizations are growing rapidly, the challenge to find the right fit has become increasingly overwhelming, such that the pressure on talent acquisition is quite high. Hiring the right candidate at the right place and at the right time is what makes recruitment all about. It has the tendency to make or break a business. So finding the best candidate out of the talent pool in this diverse era effectively and efficiently could be quite a task. That's when Recruitment Process Outsourcing comes into the picture.
What is Recruitment Process Outsourcing or RPO?
Recruitment process outsourcing, also known as RPO, is defined as the outsourcing of recruitment functions (wholly or partly) to an external service provider to ensure better results, speedy placements and cost-effectiveness to the company. When the recruitment function is outsourced, the third party looks after the hiring needs of the organization. And by collaborating with the right partner, it can reduce the hiring time by 40% and can help in saving costs by around 50%.
RPO can also be said to be a form of Business Process Outsourcing or BPO. In an RPO, only the function of recruitment is managed by an external agency whereas, in a BPO, any non-essential business function can be outsourced to reduce workload and optimize costs along with added expertise.
Benefits of Recruitment Process Outsourcing
The process of recruitment in this dynamic time is challenging. Finding the right talent by diving deep into the web using the relevant technologies can be quite complex. Recruitment service providers are experts in acquiring talents as well as nurturing them. Also, they have the resources to scale their recruiting capacity to meet rising hiring needs and are updated with the latest trends in their subject matter.
Based on the needs of an organization, an RPO brings in multiple benefits like:
Meeting fluctuating in hiring needs throughout the year and scalability benefits

Improved candidate and hiring experience; therefore, better quality

Simplifying the recruitment process, hence saving cost and time

Professional expertise in talent acquisition

Flexibility to customize services as per your needs

Competitive advantage by hiring the right people
Outsourcing recruitment processes either partially or completely can help you focus on your business thus strengthening your market value and employer brand. It brings to you the added benefit of divulging your non-core or non-essential business activities to an expert to look after its management and smooth functioning.
Models of an RPO
As discussed earlier, the recruitment process function can be outsourced either partially or completely depending on the company's specifications. Accordingly, there are three models that it can be categorized into so that the company can choose what best meets their needs. Let us look into the following to get a deeper insight.
At the end-to-end recruitment model or full RPO model, the company outsources its entire recruitment process to the RPO service provider. The external service provider takes charge of the complete recruitment cycle from sourcing to shortlisting and marketing to hiring. This ensures that all the elements of the recruitment process are supervised by the recruiting company such that the client company can focus on their core competency.

For instance, if XYZ company opts to outsource its end to end recruitment to an RPO service provider then the company gives complete authority to the RPO company to take care of their recruitment process and give access to the resources of the company to be utilized if necessary, in turn providing the company with their recruitment expertise and deliver best results.
An on-demand recruitment model is a contractual agreement between the company and the RPO service provider to provide its service for a defined period of time. The RPO steps up only when needed. Companies usually opt for this model when there is a sudden change in hiring needs. It allows the company to maintain its business while the hiring needs fluctuate.

For example, ABC Ltd. suddenly faces an increase in hiring needs then an RPO can be asked to assist for a limited or pre-defined period of time until a certain number of positions are filled.
Function-based Recruitment
A function-based recruitment model is used when a company wants to outsource the recruitment process of a functional division or a department that needs prompt attention to its hiring demands. Usually, such companies have their own in-house recruiting system but when hiring needs are either complex or need immediate action, a function-based RPO model is adopted.

For instance, XYZ company has its internal recruiting resources but its marketing division needs aggressive hiring due to the rise in job vacancies as a result of their new product launch. So the company hires a function-based RPO provider to execute their new hiring needs while the rest of the recruitment is looked after by their internal recruitment department.
Finding the right RPO partner
Since RPO has shot itself to popularity in recent times, many of the recruitment companies have added RPO to their list of services. In these competitive times, it might get difficult to choose the right partner to collaborate for your recruitment needs. 
So far we have understood what an RPO stands for, its benefits and its basic models. But the most significant part is who to choose. As in the end, the survival of the company depends on who you hire. 
Partnering with an RPO can be a huge decision for any company but keeping a few things in your checklist could help while selecting the right one.
Evaluating the experience of your RPO provider is a must. Studying a bit about their clientele and employees that will look after your recruitment process helps you understand their level of expertise and if they meet your requirements. It represents their experience as a recruitment firm. You also need to check if they have experience in the domain that you seek assistance with.

The RPO company should be current on the latest trends and technologies that will help in finding you the right fit. They must be proficient in the use of processes and technologies related to the function that you require them for. Appropriate use of social media and relying on their own resources to deliver the best results should be considered. They should also be flexible enough in offering you the right RPO model that best fits your needs.

Understand their reporting system and frequency of reports. Regular reporting helps keep a track of goals achieved and tasks that need to be done yet. Metrics is important for a company to measure success and also to ensure quality results are being delivered.

An RPO should be able to provide a smooth and hassle-free candidate experience. They should be able to build a good rapport with the candidates and ensure that they have a good experience throughout the recruitment process. This will help in building your employer brand and prove valuable to you not just in the present but in the long term too. 
Apart from these, there are a lot of other factors like flexibility, innovation, employer brand, reliability, training and attrition rate of their employees too that need to be considered while choosing an RPO partner. You can improvise these according to your needs and preferences. Ultimately, it is well quoted that, 
"THE SUCCESS OR FAILURE OF A BUSINESS DEPENDS ON WHO YOU HIRE". 
Blog 1: Click here
Blog 2: Click here