Salahkar Consultants is one of the leading Recruitment Process Outsourcing Companies with more than 30 years of experience in recruitment.

Since 2002, the RPO wing – Salahkaar RPO is serving many clients.
Advantage of our RPO services are:
Linking Recruitment Directly to Business Goals: We provide dedicated consulting and planning resources in all areas of talent acquisition (people, process, and technology) to identify needs, establish realistic goals and create an RPO solution that addresses them.
Scalability, Cost Control and Quality: Our RPO solutions provide a cost-effective approach for leveraging dedicated recruitment specialists, and best-practice sourcing and recruiting processes and infrastructure. Operations can easily be expanded or reduced based on recruitment needs.

Competitive Recruiting Advantage: The competition for specialized skills, management and leadership talent remains significant. Salahkaar's dedicated recruitment process and strategic focus give you the capability to compete for critical talent and succeed.
Improved Quality of Hire: Salahkaar has more than a decade of success in helping clients achieve the high quality of hire that is essential to effective talent acquisition.
Innovation: From sourcing best practices to advanced technology solutions, Salahkaar's commitment to innovation is the key to our clients' success.
Global Footprint: When talent needs extend across multiple countries and regions, our operations on global map give you the infrastructure, market understanding, and cultural expertise to leverage effective solutions with a global scope.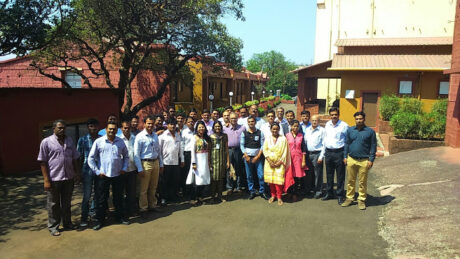 Activities That Recruitment Outsourcing Division Handles :
Placing recruiter(s) at the site with the manager(s) and project director at Salahkaar office.
Manpower planning for three to six months
Have a detailed understanding about jobs by way of recruiters filling job description, Key Result Area Sheet and Scoping Forms. Getting formal approval on understanding.
Presenting sample CV followed by quality candidate sourcing post-checking skill and attitude fitment as per online software.
Recruiter's taking the first round of interviews.
Salahkaar manager(s) taking second round – 30 interviews per month as a maximum.
Doing reference check on KRAs at candidate's previous manager.
Then having an interview at the client's site.
Getting shortlisting by the client.
Doing background check at earlier HR
If asked for then with additional fees we do:
1. Police verification, drug test, education verification, etc. (additional fees)
2. Personality profiling (Psychometric Tests)
3. Behavioural Event Interview (past performance and behaviors are indicators of future behavior)
Doing background check at earlier HR
Presenting present month's status and having next month's plan
Contact: 
If you are looking to opt for one of reliable the Recruitment Process Outsourcing Companies please contact us today.
Fill in your details or call us today. Click here
Or write to rpo@salahkaarconsultants.com
A Blog writing competition was held in our office and here are two worth reading:
Blog on Recruitment Process Outsourcing by Sanya Tyagi:
Recruitment Process Outsourcing is a process or workforce solution in which an organization transfers all or some parts of its permanent recruitment to an external provider. An effective RPO is responsible for managing the permanent recruitment of the business, along with having an efficient talent acquisition team, a flexible recruitment process, and the latest technology to facilitate the entire process.
The entire market of RPO has enormous potential and is a hot buzz these days amongst businesses. If treaded with planned strategies, RPO can prove to be extremely thriving for the workforce and the organization.
BENEFITS OF RPO
Quality Talent
In today's competitive talent market, businesses also need to tap into passive and underutilized talent pools to attract the best candidates. Providers of RPO services maintain talent databases around the world, as well as schemes to attract previously overlooked candidates.
An RPO company's main goal is to ensure your business gets the best permanent hires, even in markets that are notoriously challenging. When businesses work with an RPO, the time, energy, and expertise put into locating, screening, and onboarding new permanent employees ensure that they get the right candidates. Creating talent pools can also ensure there's a ready-made line of talent available for a client's business in case a new position opens up.
Cost-Efficient
In addition to ensuring the best talent is hired and retained, an RPO provider is also more cost-effective than traditional recruitment. RPO providers are typically evaluated based on time-to-hire, cost-to-hire, and quality-of-hire, which means they play an important role in ensuring vacancies do not remain open for months at a time. The longer a vacancy remains open, the more it costs and how much less it produces. Optimum RPOs ensure that these negative factors are minimized.
Engagement of the Candidates is enhanced
The importance of candidate engagement (CX) is well known to HR professionals. However, it is not easy to create a positive candidate experience. This process is significant, but it is time-consuming and diverts HR departments from their primary objectives. RPO providers offer businesses the experience and expertise they need to optimize the candidate experience. Furthermore, attracting top talent increases a business's chances of growing its market share within its industry.
Technological Advancement provides an upper hand
It is difficult for HR professionals to keep up with industry innovation. Even the most ambitious companies are hesitant to invest hundreds of thousands or millions in talent acquisition technology when budgets are tight.
From high-tech VMS platforms to data analysis tools, RPO companies continually invest in the latest technology to ensure clients get the talent they need to succeed.
Strategic Insights
Using the latest technology and data analysis expertise, an RPO provider can assess historical industry and company data to strategically predict future talent needs. Talent is one of the most important aspects of a business, so these insights are extremely valuable.
As the technology is expensive and HR professionals often do not find the appropriate technical expertise needed to analyze data, an RPO solution helps with these.
HR is free to focus on more important issues
The role and responsibility of an HR professional is challenging. With important board meetings and attracting permanent staff for the organization, these tasks are becoming difficult and time-consuming for the HR department. And to avoid such a hefty workload, choosing an RPO solution is clearly advantageous for both the HR people and the organization. As mentioned before, the RPO takes care of the major chunk of responsibility that comes within the HR sphere, giving the HR professionals to not only prioritise their other tasks but also develop their skills and get accustomed to the recent technological advancements.
DIFFERENT RPO SERVICES
The first one is the end–to–end RPO that is used in a single business organization or any international enterprise including all the hiring processes and technological investments required. The advantage of this type of service is that it is cost-efficient and provides greater client satisfaction.
The other type is the Project RPO which has a similar approach to the end-to-end RPO services but it brings in the expert quickly to work on any unexpected staffing needs on any project. For eg, launching a new sales team for a specific project of the company.
On-demand RPO involves recruiters who work for an organization for a short period. They quickly bring in and involve talent and employees that are required for the organization. Though the process and results are real quick, it doesn't have any added advantages like employer branding or any technological investment.
  TECHNOLOGY USED IN RPO
An RPO will incorporate the following technology:
An Applicant Tracking System
A Candidate Relationship Management tool
A community platform for internal talent
A careers site
In recent times, many businesses within the RPO are also shifting towards using artificial intelligence (AI), enhancing business solutions for organizations. Although the use of AI is still in its infant stages, it is well-predicted that in the coming years, it will play a major role in the RPO solutions.
COST OF AN RPO SOLUTION
The cost of an RPO solution is determined by the project's size and the model utilised. Because it's tough to put a precise figure on this, it's better to speak with an RPO service provider to learn more about the cost-effectiveness of an RPO solution for your company.
HOW TO SECURE A GENUINE RPO?
RPO is one of the fastest-growing solutions for companies wanting to hire permanent employees, but there are some drawbacks to be aware of. Some recruitment firms may claim to provide true RPO solutions. But the fact of the matter is that they do not have the necessary experience or technology. Recruiting permanent employees is not an RPO solution; it is just recruitment.
It's not an RPO solution if the RPO solution you're offered isn't strategic, doesn't integrate with your organisation, and doesn't include data analysis and reporting. Although the sector is more mature than it was ten years ago, some temporary and permanent employment firms are still looking to grow their business by merely what's happening in the market currently.
DIFFERENCE BETWEEN RPO AND TRADITIONAL RECRUITMENT
An RPO service provider doesn't only replace permanent roles on an ad hoc basis; it integrates itself into a company's culture, radically altering how permanent talent is hired. A good RPO solution is strategic, even if no two solutions are alike. It should be in charge of the recruitment process' design and administration. It should use the most advanced technology to ensure optimal efficiency, conduct regular data analysis, and provide regular reporting on the solution's efficacy.
IS RPO GOOD FOR YOUR COMPANY?
An RPO can be a boon to businesses. Historically, RPOs were only used by major corporations. However, in recent years, especially with the advancement of technology, medium-sized enterprises have found success with RPO solutions. An RPO makes financial, structural, and strategic sense for any company that hires permanent employees regularly.
Now I also recommend checking a typical Recruitment Processes:
How does the hiring or the recruitment procedure work? Although diverse approaches are used by firms to locate job applicants, most have a structured process in place to find and hire new staff. Learning more about their approaches will help you appeal to your target employers, increasing your chances of being hired. Here's everything you need to know about it.
STEPS IN THE RECRUITMENT PROCESS
Companies engage in a systematic recruiting process that includes three phases: planning, recruitment, and employee selection, before hiring new staff.
Human resource planning is the process through which a firm determines the number of employees it needs and the skill sets that these individuals must possess. The organization must then weigh its requirements against the estimated amount of competent individuals in the market.
Recruitment: During this phase, a company seeks to reach out to a pool of people via job posts, job referrals, advertisements, and college campus recruitment, among other methods. Candidates who perform well on these tests are invited in for interviews and other forms of evaluation. Prospective employees may be subjected to background checks by their employers. They'll also look into your references.
Employee selection: Finally, the employer assesses the information gathered during the recruitment phase from the pool of applicants. The company chooses which candidate will be offered the post after evaluating all of them.
HOW DO COMPANIES FIND APPLICANTS FOR DIFFERENT JOB PROFILES?
Some businesses use a recruiter to help them locate candidates. Recruiters might work for companies as part of their human resources department or recruitment firms. External recruiters, sometimes known as headhunters, help firms find high-level professionals.
Most larger corporations, as well as many smaller businesses, publish job openings on their websites. Job seekers can use the internet to look for jobs, read job descriptions, and apply for positions. They may be able to set up job search agents to send them emails when new positions become available. Some companies also conduct interviews via the internet.
Companies that are actively recruiting people will list opportunities on job boards and other employment sites in addition to their own websites. They can use generic job boards such as Indeed or Monster, specialist sites devoted to certain industries or remote work, or a combination of the two.
On LinkedIn, Facebook, Twitter, and other social networking sites, companies are increasingly adopting social recruitment to find people for jobs. Recruiters can utilize LinkedIn to find qualified individuals who have indicated that they are available for work, for example. Employers can also use social media to promote job posts on their corporate website or post job advertisements on social media.
APPLYING FOR THE JOB
How people apply for positions is also determined by the organization. Applicants tracking systems are used by some companies to accept job applications as well as screen and select prospects for interviews.
In some situations, job applicants will be required to submit a résumé and cover letter through email as part of the application process. Some firms still prefer applicants to submit their applications in person.
Candidates may also be asked to take a talent assessment exam as part of the application process to evaluate if their history matches the company's needs. After that, the company will analyze job applications and test results, choose prospects and invite them to an interview.
DURING THE INTERVIEW
The interview process does not consist of being called for a job interview, conducting the interview, and receiving a job offer. It can be complicated in many circumstances and may require many interviews.
Before obtaining a job offer or a rejection notice, you may need to interview multiple times. As part of the hiring process, companies will do background checks, reference checks, and perhaps credit checks. If you get selected, the results of these tests may influence whether or not you're offered a position.
======
Another Blog on Recruitment Process Outsourcing by Fatema Umrethwala:
Recruitment Process Outsourcing
In today's competitive world, where organizations are growing rapidly, the challenge to find the right fit has become increasingly overwhelming, such that the pressure on talent acquisition is quite high. Hiring the right candidate at the right place and at the right time is what makes recruitment all about. It has the tendency to make or break a business. So finding the best candidate out of the talent pool in this diverse era effectively and efficiently could be quite a task. That's when Recruitment Process Outsourcing comes into the picture.
What is Recruitment Process Outsourcing or RPO?
Recruitment process outsourcing, also known as RPO, is defined as the outsourcing of recruitment functions (wholly or partly) to an external service provider to ensure better results, speedy placements and cost-effectiveness to the company. When the recruitment function is outsourced, the third party looks after the hiring needs of the organization. And by collaborating with the right partner, it can reduce the hiring time by 40% and can help in saving costs by around 50%.
RPO can also be said to be a form of Business Process Outsourcing or BPO. In an RPO, only the function of recruitment is managed by an external agency whereas, in a BPO, any non-essential business function can be outsourced to reduce workload and optimize costs along with added expertise.
Benefits of Recruitment Process Outsourcing
The process of recruitment in this dynamic time is challenging. Finding the right talent by diving deep into the web using the relevant technologies can be quite complex. Recruitment service providers are experts in acquiring talents as well as nurturing them. Also, they have the resources to scale their recruiting capacity to meet rising hiring needs and are updated with the latest trends in their subject matter.
Based on the needs of an organization, an RPO brings in multiple benefits like:
Meeting fluctuating in hiring needs throughout the year and scalability benefits

Improved candidate and hiring experience; therefore, better quality

Simplifying the recruitment process, hence saving cost and time

Professional expertise in talent acquisition

Flexibility to customize services as per your needs

Competitive advantage by hiring the right people
Outsourcing recruitment processes either partially or completely can help you focus on your business thus strengthening your market value and employer brand. It brings to you the added benefit of divulging your non-core or non-essential business activities to an expert to look after its management and smooth functioning.
Models of an RPO
As discussed earlier, the recruitment process function can be outsourced either partially or completely depending on the company's specifications. Accordingly, there are three models that it can be categorized into so that the company can choose what best meets their needs. Let us look into the following to get a deeper insight.
At the end-to-end recruitment model or full RPO model, the company outsources its entire recruitment process to the RPO service provider. The external service provider takes charge of the complete recruitment cycle from sourcing to shortlisting and marketing to hiring. This ensures that all the elements of the recruitment process are supervised by the recruiting company such that the client company can focus on their core competency.

For instance, if XYZ company opts to outsource its end to end recruitment to an RPO service provider then the company gives complete authority to the RPO company to take care of their recruitment process and give access to the resources of the company to be utilized if necessary, in turn providing the company with their recruitment expertise and deliver best results.
An on-demand recruitment model is a contractual agreement between the company and the RPO service provider to provide its service for a defined period of time. The RPO steps up only when needed. Companies usually opt for this model when there is a sudden change in hiring needs. It allows the company to maintain its business while the hiring needs fluctuate.

For example, ABC Ltd. suddenly faces an increase in hiring needs then an RPO can be asked to assist for a limited or pre-defined period of time until a certain number of positions are filled.
Function-based Recruitment
A function-based recruitment model is used when a company wants to outsource the recruitment process of a functional division or a department that needs prompt attention to its hiring demands. Usually, such companies have their own in-house recruiting system but when hiring needs are either complex or need immediate action, a function-based RPO model is adopted.

For instance, XYZ company has its internal recruiting resources but its marketing division needs aggressive hiring due to the rise in job vacancies as a result of their new product launch. So the company hires a function-based RPO provider to execute their new hiring needs while the rest of the recruitment is looked after by their internal recruitment department.
Finding the right RPO partner
Since RPO has shot itself to popularity in recent times, many of the recruitment companies have added RPO to their list of services. In these competitive times, it might get difficult to choose the right partner to collaborate for your recruitment needs. 
So far we have understood what an RPO stands for, its benefits and its basic models. But the most significant part is who to choose. As in the end, the survival of the company depends on who you hire. 
Partnering with an RPO can be a huge decision for any company but keeping a few things in your checklist could help while selecting the right one.
Evaluating the experience of your RPO provider is a must. Studying a bit about their clientele and employees that will look after your recruitment process helps you understand their level of expertise and if they meet your requirements. It represents their experience as a recruitment firm. You also need to check if they have experience in the domain that you seek assistance with.

The RPO company should be current on the latest trends and technologies that will help in finding you the right fit. They must be proficient in the use of processes and technologies related to the function that you require them for. Appropriate use of social media and relying on their own resources to deliver the best results should be considered. They should also be flexible enough in offering you the right RPO model that best fits your needs.

Understand their reporting system and frequency of reports. Regular reporting helps keep a track of goals achieved and tasks that need to be done yet. Metrics is important for a company to measure success and also to ensure quality results are being delivered.

An RPO should be able to provide a smooth and hassle-free candidate experience. They should be able to build a good rapport with the candidates and ensure that they have a good experience throughout the recruitment process. This will help in building your employer brand and prove valuable to you not just in the present but in the long term too. 
Apart from these, there are a lot of other factors like flexibility, innovation, employer brand, reliability, training and attrition rate of their employees too that need to be considered while choosing an RPO partner. You can improvise these according to your needs and preferences. Ultimately, it is well quoted that, 
---
"THE SUCCESS OR FAILURE OF A BUSINESS DEPENDS ON WHO YOU HIRE".