Testing and Assessment in areas such as Selection, Recruitment and Counseling
At the onset we bring to notice that our newly developed, reliable and validated test has given much better results than better known and established MBTI. To know more, please read here.
We construct several psychometric personality test which are personality and ability tests kind and we also develop related software. We take complete assignment right from need recheck – construction – administering – analysis and finally providing solution for the required area. Along with having great use in selection and recruitment, these assessments testing also bring about a better employee-job match and helps in right employees' promotions. Additionally the purpose is also to help employees achieve their maximum potential, while bringing about organizational growth.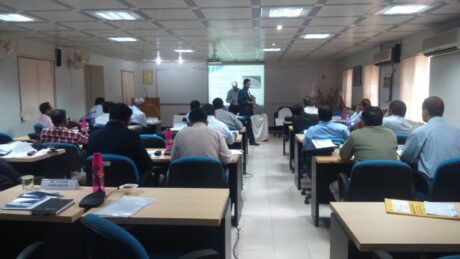 Aptitude Testing
Skill Testing like C++ Developer Or Petroleum Process Knowledgeable Candidate Hiring
Assessment Centers
Assessment-Based Career Planning and Counseling
Development Center
Educational Counseling and Vocational Guidance
Employees' Personality Profile
Enhancing Mental and Physical Health at the Workplace
Ergonomic Testing and Check listing
HRD Functions and Climate Surveys
IQ, EQ and SQ Testing
Managerial Ethics Audit
Organizational Process Testing
Performance Counseling
Personal Counseling
Psychometric Personality Test
Potential Testing and Assessment
Selection, Placement, Transfer and Promotion
Testing and Assessment for Recruitment
Please check the list of tests available with us here
Blog written by our associate, Syed Ilyaaz:
Psychometric Testing Tools & Question
Content:
What is psychometric testing types of psychometric test
Purpose of psychometric testing
What are employers are looking for?
When it is used & what it's measured?
Different between psychometric testing & another skill testing
What is psychometric testing?
A psychometric test is an assessment that is conducted to evaluate a candidate performance and includes, but is not limited to, skills, knowledge, abilities, personality traits, attitudes, and job/academic potential
Three Common Psychometric Testing Areas
There are many psychometric test styles and formats with 3 main areas we will elaborate on. They are aptitude tests, behavioral tests, and assessment centers.
      Aptitude Tests: Test that indicates a goal of assessing various cognitive abilities from literacy skills & numeracy to spatial awareness, etc.
      Behavioural Tests: This test indicates specific personality traits that could indicate suitability for specific roles. These can be in the form of personality questionnaires, leadership tests, motivation tests, and situational judgment tests.
      Assessment Centres: Assessment centers are based on human interaction assessments.
Types of psychometric tests
Psychometric tests are used to measure a variety of skills needed to fulfill the duties of the job they are associated with.
Numerical reasoning
Mechanical reasoning
Logical reasoning
verbal reasoning
diagrammatic reasoning
abstract reasoning
spatial reasoning
situational judgment assessment
error-checking test
concentration test
Purpose of psychometric testing
There are various reasons for psychometric tests used by companies and academic bodies for part of their recruitment or admission process, etc. this helps in checking the candidate with the right skill, knowledge, abilities, personality traits, attitudes, etc.
How psychometric testing used in recruitment?
Using a psychometric test in recruitment is not only gives your skillsets but, your cognitive abilities as well for the employer.
Some of the most common uses are as follows:
Here, tests can help recruiters or hiring managers determine the candidates who are the best fit for the job position with their personality, aptitude, and knowledge test, etc.
      Individual development and training–
it helps you determine how best to improve current skills and performance.
      Team building and development–
This provides many uses for psychometric tests. The better people understand themselves and others, the better they can build and maintain positive workplace relationships.
      Career development and progression–
it helps you uncover values and interests that are fundamental to overall career satisfaction.
What Are Employers Looking For?
Psychometric tests are like psychological tools used by employers/managers to gauge your suitability for a job role. they contain a variety of desirable skillsets for the measures.
Some of the most popular psychometric assessments used today include numerical, verbal, and logical reasoning.
The third major reason why companies use psychometric testing.
The first is to reduce the cost of recruitment and improve the HR process
the second is to ensure that onboarding the quality candidates for the job
the third is to avoiding employee turnover.
The main goal of a psychometric test is to ensure that a candidate has the required skill and cognitive ability to perform the duties of a job/role.
The numerical, verbal, and non-verbal reasoning skills are the most common skill set being used to measured.
Psychometric tests are used to measure an individual's mental capabilities and behavioral style with standard and scientific methods. This test is designed in the requirement of personality characteristics and aptitude to measure candidates' suitability for a job role. This helps them to know the extent to which candidates' personalities and cognitive abilities meet those required for the role. information collected from the psychometric test gives the hidden aspects of candidates that are difficult to extract from a face-to-face interview.
The Big Five-Factor Model is one of the simplified human personalities developed by two research teams led by Robert R. McCrae, Paul Costa, Lewis Goldberg, and Warren Norman.
Describe person who are high in Openness tend to be creative, adventurous, and intellectual.
Describe person's level of goal orientation and persistence
Describe person's inclination to seek stimulation from the outside world, especially in the form of attention from other people.
Describe the extent to which a person prioritizes the needs of others over their own needs
Describe a person's tendency to respond to stressors with negative emotions, including fear, sadness, anxiety, guilt, and shame
When it is used? & what is measured?
These psychometric tests may appear at any stage in the recruitment process but usually, you will undertake the test at one of these three stages:
Immediately after you submit your application form
As an add-on to your interview
Immediately before or after your actual interview
There are three main areas that the tests explore:
Your capabilities,
Your aptitude for the job,
To determine whether your personality fits in with the vision of the organization you are hoping to join.
Essentially, the tests are looking to evaluate your intelligence, aptitude, and personality, as well as how you handle pressure and your working style.
Different between psychometric testing and another skill test
Psychometric test
Evaluate the candidate's critical thinking ability, personality traits; and behavioral competency in performing the job.
They are based on proven theories and statistical analyses.
These tests have a broad spectrum of applicability. It comprises various tests that have different roles to examine candidates. For example, Aptitude tests evaluate the candidate's ability to perform a complex job. Personality tests help recruiters in understanding the person's suitability for the job role.
Skill test
Measure the candidate's skills, education, and knowledge in terms of technical know-how related to the job
They are based on the skill and the ability to perform the task effectively
These tests have a narrow spectrum of applicability and do not examine the candidate's cognitive abilities and behavioral competencies. It is limited to a candidate's basic, moderate, and advanced-level skills required for a suitable job role.